Welcome back to LA Medical's tips on how you can have a healthier heart during American Heart Month.  What have you learned so far? Let's get to it and continue to talk about more ways for a healthy heart!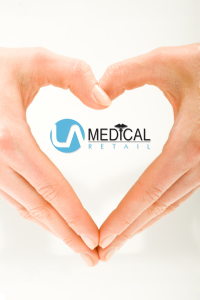 Sleep, but don't sleep in – The recommended amount of sleep average men and women should get every night should be between six and eight hours.  People who suffer from insomnia face almost a 50 percent risk of having a heart attack.  Remember though, too much sleep can be a disadvantage to heart health as well.  Snoozing too much could link to added weight gain and poor mental health.
Control your LDL – Stay on top of your cholesterol by knowing your LDL, HDL and triglyceride levels.  If your numbers are high, speak with your doctor on how you can lower your LDL.  Try eating eggs for breakfast as it may help clear your coronary arteries and they're a good source of protein.
Watch your weight – Drinking more water and eating healthy is always a plus when it comes to having a healthy heart.  Take control this month and eat and drink healthier; you may be surprised on how much better you feel and how much energy you have.
Talk to your Doctor – Many people have the "if it isn't broke, don't fix it" mentality when it comes to their health and bodies.  Unlike material objects, you only have one body and you should do everything you can to keep it healthy.  Don't just see the doctor in a crisis! Try scheduling regular meetings with your doctor to discuss your health such as blood pressure readings, glucose levels, hearing and eyesight.  Get an official weight check and ask questions. You can never be too sure about your health and what you need to work on.
LA Medical wants you to have healthy hearts and healthy bodies. As always, see LA Medical for home wheelchair ramps and hospital beds.