In February, the experts at LA Medical want you to know the good, the bad and the not-really-attractive parts of canned foods and how what you're eating can affect your health.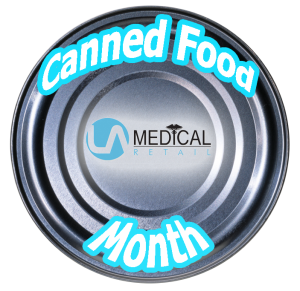 First of all, there is really nothing wrong with canned food. Canned food revolutionized how we eat along with the food safety in this country and around the world. The downside is that canned foods are often very high in sodium, or salt, and high sodium can be a real danger to people who have issues including heart issues, high blood pressure, kidney problems and edema. These are some of the medical problems that LA Medical see's every day.
We know that the average recommended sodium intake is between 1500 and 2400 mg of sodium per day and that the American Heart Association recommends that people with high blood pressure eat less than1500mg per day. We also know that most of us eat way more than that and we may not even know it.
Juices are very popular now, what about the sodium in vegetables juices?  One cup of the average vegetable juice cocktail, like a V8, contains 479 milligrams of sodium. That's 33 percent of your daily recommended sodium.  Most of the glasses we use are at least 2 cups. Look for low-sodium versions of vegetable juice.
Another good and quick meal is a bowl of soup. But those canned soups can be loaded with sodium.  Just 1 cup of canned chicken noodle soup contains as much as 744 milligrams of sodium.
Try adding a sandwich to that bowl of soup and get more sodium. Two slices of beef or pork dry salami can have as much as 362 milligrams of sodium. The bread that you have the sandwich is also usually high (328 mg per slice) in sodium and so is the American cheese (468 mgs) on the sandwich. Sorry if we ruined your appetite.
LA Medical wants you to be the best and healthiest you can be. See us today for incontinence and mobility ramps and lifts.
Tags:
Canned Food
,
Food
,
Sodium