March is Brain Injury Awareness Month and LA Medical Retail wants more people to be aware of this all-too-common injury and the impact it has on individuals, families and society.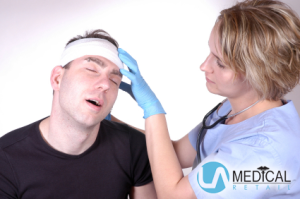 Concussions are the most common type of a brain injury. What is a concussion?
A concussion is a type of traumatic brain injury, or TBI, caused by a bump, blow or jolt to the head that can change the way your brain normally works. Concussions can also occur from a blow to the body that causes the head to move rapidly back and forth. Even a "ding," "getting your bell rung," or what seems to be mild bump or blow to the head can be serious. Concussions can and do affect people of every age, and can be very dangerous to children and older people.
A concussion is considered a "mild" brain injury, but should not be dismissed as "no big deal". Many problems develop for people who receive multiple concussions such as professional sports athletes and military personnel. Despite what is portrayed on TV and movies, most concussions occur without loss of consciousness. Recognition and proper response to concussions when they first occur can help prevent further injury or even death.
What are the signs that a person may have received concussion?

Headache or "pressure" in the head
Nausea or vomiting
Balance problems or dizziness
Double or blurry vision
Sensitivity to light
Sensitivity to noise
Feeling sluggish, hazy, foggy or groggy
Concentration or memory problems
Confusion
Does not "feel right" or is "feeling down"
Remember, you can't see a concussion and some people may not experience and/or report symptoms until hours or days after the injury. Most people with a concussion will recover quickly and fully. But for some people, signs and symptoms of concussion can last for days, weeks or longer.
One great way to prevent falls that cause concussions is with safety equipment in the home, especially in the bathroom and bedroom. Let LA Medical Retail help you. Visit our online catalog or stop in and see us in person so we can show you the many options available. Protect your brain; it's the only one you get!