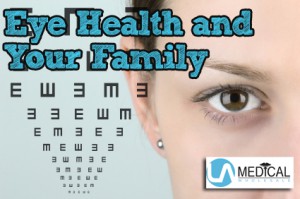 July is Eye Injury Prevention Month and centers in on protecting your eyes or eye health in all sorts of environments inside or outside.  Not being able to see perfectly decreases your involvement in reading, driving, or playing sports.  Most eye health issues and diseases can be caught early.  Something to keep in mind while thinking about eye care is to look back at your family's health history.
According to the Center for Disease Control (CDC), approximately 14 million individuals aged 12 years and older have visual impairment, among which more than 80 percent could be corrected to good vision with refractive correction.  How many of these cases could've been looked at before the issues arise by simply looking back on family history?
According to the Department of Health and Human Services 96 percent of Americans rank the need to know one's family health history as important, however only one-third of us actually take the time to assemble this data. Having a better idea on your family's health history helps the doctor better understand previous issues and how to correct them with the current family member.
Some questions may come up when you or your family member are in for your next check up regarding family history:
How long did the family member have disease or medical condition?
Did previous family members have a history of excessive/minimal intake of alcohol, tobacco or overdose on drugs?
Any illnesses or conditions within the last month, 6 months or year?
Any health habits such as a diet plan
Having a general idea of your family history is a great peace of mind.  Family history will not exclude you from obtaining certain diseases or conditions.  Having your family history available is a great help to your doctor or health provider.  Consider finding out more about your family's history this summer meeting at a reunion or holidays. If you have a member of the family with diabetes and an eye disorder, please consider looking at LA Medical's diabetic products.