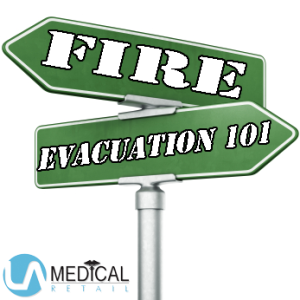 Even though National Preparedness Month is in September, it's a great idea to discuss how you and your family can be prepared for an evacuation during a forest fire. You can always be prepared for the worst and it helps to test yourself to be ready in case of natural disaster or emergency.  LA Medical would like to educate you and your family on how you can become prepared and what you or a loved one can do to be ready with their home medical equipment.
The National Preparedness Coalition Community is based online and they connect on emergency preparedness.  The focus is to get you, your family, your friends and your neighborhood prepared to live in or evacuate your homes in the event of a natural disaster.
Since you may have home medical equipment such as power wheelchairs or manual wheelchairs, it may take additional time to gather things in case you have to evacuate your home. Have some supplies ready in case of emergency so you don't have to rush getting out of your home. The National Preparedness Coalition Community is here to help you understand to have things ready just in case or have back up medical supplies ready to go.  In case the power goes out, consider having back up power by getting a gas powered, portable generator that sits outside. This will at least get your wheelchair batteries charged.
There are four guidelines to follow to prepare for any emergency:
Get a kit – Have enough non-perishable food, water and other supplies like batteries, toiletries, cellular phone and flashlights or candles.  Utilities may be shut off for days or weeks, depending on the situation.
Make a plan – It's important to plan ahead. When a disaster may strike, it's important to know how you and your family will stay in touch and get back together.
Be informed – Make sure to follow up with current weather conditions and local authorities with the current situations and natural disasters. You may need to stay in your home or evacuate and local authorities will be able to direct you.
Get involved – Volunteer to support disaster efforts in your community.

 
LA Medical anticipates you'll talk with your family about how you'll prepare for any emergency.  In case you have to stay in your home during an emergency, look at LA Medical's aids to daily living and orthopedic aids today!