If you're new to driving or riding in a handicap or wheelchair accessible vehicle in California, you may wonder how to apply for special licensing of your vehicle or where you can and can't park. LA Medical doesn't want your independence of driving and getting around being limited due to not knowing how you can properly use your vehicle to the fullest.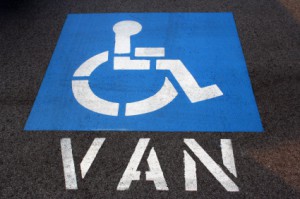 The State of California and Department of Motor Vehicles requires that people who have disabilities get a diagnosis letter from their doctor or specialist stating they have a specific disability.  The State of California can issue you a parking placard or license plate to park in designated parking spots in front of businesses, city parks or general parking spots.  Make sure you watch out for people who steal parking placards to benefit using closer parking spaces for an easier place to park.  People who do this are subject to fines or jail time.
If you decide to drive your handicap accessible vehicle, you may have to take a driving test through your local DMV office. After you've become accustomed to getting in and out of the vehicle, securing yourself in place, using the features and driving with hand controls, you'll need to find a place to park with enough room for you to get in and out safely.
If you only need a temporary parking placard, you may also get one with a doctor's note and pay a small fee. You may park in any space with the International Symbol of Access, or the wheelchair symbol, blue curbs or on metered parking on the street for no charge.
For your vehicle to be an easy to use handicap accessible vehicle, it should have an automatic transmission, a shifter that isn't electronically activated, seat belts long enough to go around a wheelchair and buckle in and have multiple hand grips to help get in and out of your vehicle.
LA Medical wants you to be safe while driving here in California.  Make sure to drive over and check out our showroom of wheelchair ramps and manual wheelchairs.