For many, hospital beds carry a reputation for being uncomfortable and sterile because of their association with an unpleasant hospital stay.  However, there are many options for comfortable in-home hospital beds that carry many benefits for the patient and the caregiver.  LA Medical Retail has the home hospital bed solutions for you!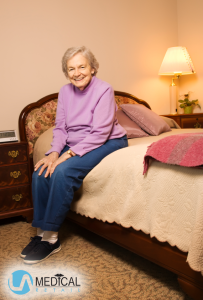 What kind of hospital bed should I get?
When shopping for an in-home hospital bed, you'll see three main categories; manual, semi-electric and full-electric.  The manual bed operates through a series of cranks that are body-powered.  The semi-electric bed is controlled by a combination of body-powered cranks and electricity, and the full-electric bed operates completely on electricity.  At LA Medical Retail, we carry full-electric hospital beds and semi-electric hospital beds. Either hospital bed is a great choice for both caregivers and patients.
Where should I put my hospital bed?
There are several key factors to keep in mind when deciding where to place your in-home hospital bed.  Most importantly, if you are working with a semi-electric or full-electric hospital bed, you will need an electrical outlet nearby.  Also, think about the daily care you'll need to provide your patient and also their interactions with you.  Caregivers won't want to go up and down stairs to get to your patient and you also don't want to isolate the patient from any visitors to the house as this could cause them to feel very alienated.  Consider placing the hospital bed on the main level of the house in a room that is close to the main rooms of the house such as the living room or kitchen.
What hospital bed mattress do I need?
Finally, you'll need to decide on your hospital bed mattress.  The type of mattress you choose depends on the diagnosis of your patient.  At LA Medical Retail, we offer several options in hospital bed mattresses.  Choose from manufacturers such as Drive or Invacare for foam mattresses, pressure mattresses or gel overlays.
If you have additional questions about our home hospital beds, bed rails, mattresses or accessories, contact us at LA Medical Retail today.