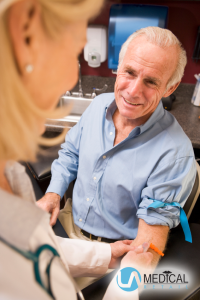 As LA Medical Retail has mentioned before, blood pressure is determined by the amount of blood your heart pumps and the amount of resistance to blood flow in your arteries. The more blood your heart pumps and the narrower your arteries, the higher your blood pressure will be. High blood pressure is a common condition in which the force of the blood against your artery walls is high enough that it may eventually cause health problems.
How can you tell if you or a loved one has high blood pressure? What are the symptoms? Unfortunately, there aren't many obvious symptoms of high blood pressure. Some people may experience dull headaches, dizziness and nosebleeds. Those common conditions are often interpreted as other things and sadly only occur when blood pressure is dangerously high and even life-threatening.
There are many risk factors that increase your threat of high blood pressure. These factors include:
Diet– High fat, high sugar and high sodium filled diets is a recipe for hypertension disasters.
Race- African Americans have higher rates of high blood pressure than Caucasians, and problems develop at an earlier age.
Family history– Like so many health conditions, high blood pressure runs in families. Get familiar with your family health history.
Age- Hypertension increases with your age and is most common with middle-aged men and post-menopausal women.
Being overweight– The more you weigh, the harder our heart has to work. The harder it works, the more damage done to the walls of your arteries.
Smoking– If you smoke, consider quitting immediately. This will improve your health in many ways besides high blood pressure.
Alcohol– While moderate drinking is okay and even beneficial for most people, too much alcohol increases blood pressure risks.
Stress– Stress is very damaging to the body and heart. Get more sleep, exercise and meditate. Causes of stress can often be limited or removed.
Untreated sleep apnea– Sleep Apnea has been shown to raise blood pressure. See your doctor about your sleep apnea.
See LA Medical Retail's online catalog or visit us in person today to learn more about home medical equipment to assist you.