Our great state of California is the home to about 33 million acres of public and private forest area.  Wildfires can start up here just like the fires in states like Washington.  Wildfires don't only destroy our forests, but they also can kill the animals that live there and they can affect your health.  Today, LA Medical would like to educate you on how to stay safe and prevent forest fires from starting.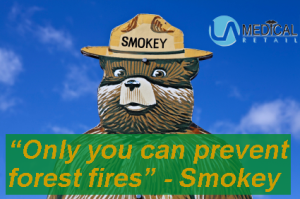 Wildfires release smoke and other mixtures of fine particles and gases that go into the air. Smoke from wildfires can affect your eyes, your breathing and can cause chronic heart or lung disease. Smoke can cause you to cough, have shortness of breath, chest pain, headaches and asthma complications.  Even if the reported wildfire is miles away, smoke and other particles still travel in the air and you still will need to protect yourself.
The most common human-caused igniter of wildfires is campfires.  You may think having rocks surrounding the fire will be fine, but that doesn't mean embers from the fire can't travel by air and start somewhere else. Here are some ideas to plan, build and maintain, and take out your campfire:
Do not build a fire in dry conditions
If you're staying at a campground, see if they have existing fire pits or rings
Make sure fire is at least 15 feet away from flammable objects and watch out for branches above
If you're setting up a new fire site, make sure to dig a hole at least a foot deep
Circle the pit with rocks or a steel wheel
Keep a bucket of water or dirt nearby
Allow contents to burn to ash before extinguishing the fire with water
Stir contents around until no embers are noticeable

 
"Only you can prevent forest fires," was said by the iconic childhood mascot Smokey the Bear.  Being around and just turning 69 years old, Smokey is still promoting how to prevent forest fires.  In 2011, more than 8.7 million acres burned due to wildfires in the United States and more than 5.4 million acres were burned due to human-caused wildfires, said by Smokey Bear himself.
LA Medical wants you to be safe while having a peaceful night outside by the fire. Take a look at our online catalog for a full list of home medical products we offer!