March is Multiple Sclerosis (MS) Education & Awareness Month and LA Medical Retail wants all of our customers and all Californians to be aware of this mysterious disease.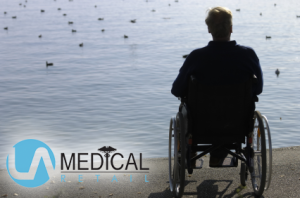 What is Multiple Sclerosis and how much do you know about it? It's believed that MS is an autoimmune disease, in which the body's immune system attacks its own tissues. In multiple sclerosis, this process destroys myelin, the fatty substance that coats and protects nerve fibers in the brain and spinal cord.
Myelin can be compared to the insulation on electrical wires. When myelin is damaged, the messages that travel along that nerve may be slowed or blocked. This damage leads to the physical symptoms of MS.
Things you may not know about MS:
Multiple Sclerosis can strike both men and women, but is more common in women
Multiple Sclerosis appears more frequently in Caucasians than in Hispanics or African Americans
Multiple Sclerosis is relatively rare among Asians and certain other ethnic groups
Multiple Sclerosis is most commonly diagnosed in individuals between the ages of 20 and 50
350,000 to 500,000 people in the U.S. have been diagnosed with Multiple Sclerosis
Two hundred people are diagnosed with Multiple Sclerosis every week
Over 2.5 million people are living with Multiple Sclerosis worldwide
There are common symptoms of MS, but not all people will share the same ones. Common symptoms of MS include fatigue, weakness, spasticity, balance problems, bladder and bowel problems, numbness, vision loss, tremors and depression. Many of these symptoms are shared with other diseases and disorders as well, so it's best to be tested.
Most people with multiple sclerosis, particularly in the beginning stages of the disease, experience relapses of symptoms, which are followed by periods of complete or partial remission of symptoms. That is why MS is considered such a mysterious disease.
LA Medical Retail carries many products that can make the lives of people with MS easier and more comfortable. We encourage you to visit our online catalog or visit in person if you are in the area and let us show you ways the right medical equipment can help.